Kenny MacAskill – Representing East Lothian
Dear Friends,
Welcome to the April edition of my newsletter.
As I write, the lockdown period has just been extended another three weeks.  I know how difficult this is for many of you, so can I take this opportunity to thank the people of East Lothian for their willingness to do what is right by staying at home and protecting the NHS from overload.
I have been heartened by seeing clips from across the county of the applause on Thursday evenings for our health and essential key workers.  I was also pleased to see the Scottish Government's announcement of an immediate pay rise for social care staff, and further support for business during this time.
I know many of you are still struggling.  I want to assure you, as your MP, I will continue to press for the measures that are necessary from the UK Government.
Later in this newsletter, you can read about my office team who are doing a power of work responding to the increase in enquiries this pandemic has brought about.  Rest assured, if you need to get in touch they, and I, are on hand to help as best we can.
If you have any comments about the content of this newsletter, or you want to get in touch with me about any other issue, please visit the Contact page on my website, or simply reply to this email.
Yours for Scotland,
Kenny MacAskill MP 
Coronavirus Advice Pages and Resources
This is a difficult time for many in the constituency. We have put these pages together to provide answers for some the frequently asked questions that come in to my mailbox.
This is a fast moving situation and the advice will necesarily need to be updated over time. Every update to these pages will be date stamped so you can get the most up to date information.
In case of doubt, it is always best to check with the organisations or service providers listed as to what their most up to date advice is.
Wherever possible I have included phone numbers and email addresses so you can contact ogranisations directly.
Surgeries postponed due to Coronavirus
In light of the Coronavirus (COVID-19) pandemic I have made the regrettable decision to cancel my advice surgeries for the foreseeable future. This is a temporary measure until this situation passes, and rest assured, my office team and I are still on hand to help with your enquiries. You can contact me directly by email: kenny.macaskill.mp@parliament.uk and regular updates will be published on my website (www.kennymacaskillmp.scot) and through social media.  Shortly I will be publishing documents responding to some frequently asked questions, as well as providing links and telephone numbers to resources put in place specifically for the Coronavirus outbreak in East Lothian, across Scotland and within the UK.
The people of East Lothian are resilient, and I have already been inspired by the efforts in the community to help those who are vulnerable and self-isolating.  I know, as a community we will get through this, and I will do my best, as I know we are all doing, to help support those who are most affected.  I ask you all to use an abundance of caution at this time and continue to follow the guidelines set out by the Government.
Coronavirus Advice – Questions in Parliament
I recently asked some questions in parliament about Coronavirus assistance for small businesses, clarity on furloughing staff, assistance for self-employed people and the Coronavirus Business Interruption Loan Scheme (CBILS).
These questions were written on behalf of the many constituents who have been in touch with me recently to ask about these issues.
I received the written answers to these questions which can be found at my website here. They might provide some clarity for people in these situations.
New Volunteering Campaign Launched by Scottish Government
A new 'Scotland Cares' campaign has been launched by the Scottish Government to encourage people to volunteer.
You can find the Coronavirus volunteering portal at readyscotland.org. The website is being constantly updated and provides advice on volunteering safely and the organisations to register an interest with such as Volunteer Scotland and the Red Cross.
While the most important ask for the public remains to stay at home and follow the essential public health guidance, people who are healthy and not at risk can volunteer to provide practical or emotional help to those most in need.
Visiting East Lothian Foodbank
I sat down today for lunch with some volunteers at East Lothian Food Bank in Tranent. It was quite humbling to see the work that goes in to ensuring those in real need are able to feed their families and themselves. There are over 60 volunteers spread across East Lothian who do this vital work for the food bank. They showed me around the facility in Tranent, and we spoke about the challenges and opportunities the food bank faces. They made clear that there was an uptick in referrals following the introduction of Universal Credit in March 2016. As a child of the 60s in West Lothian I saw poverty, but it was nothing like we see today. It's grinding and relentless and it's now "in work poverty" that so many face.
Read more about this visit at my website here.
CHANGES East Lothian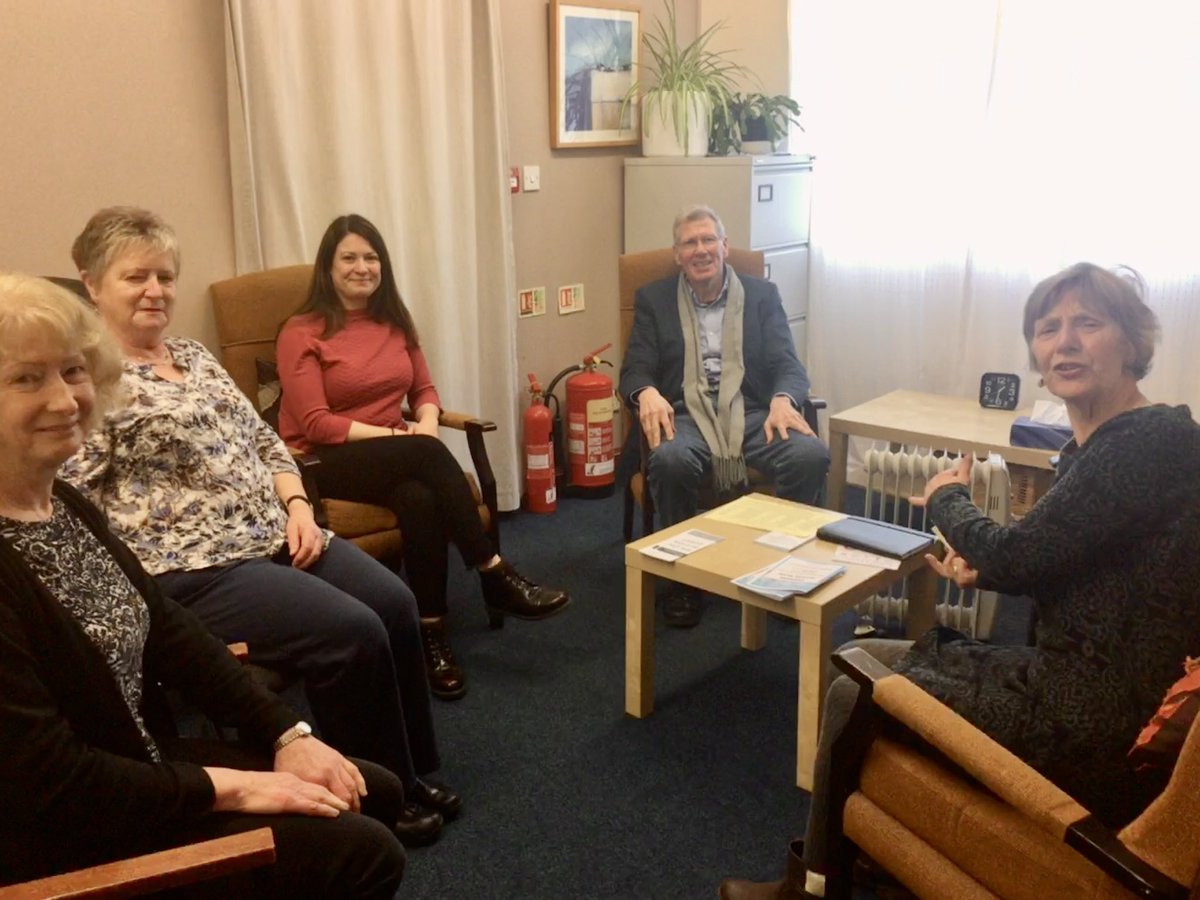 I'm supporting CHANGES East Lothian's fundraiser to help pay for more people to receive an counselling with a trainee therapist.  CHANGES promote positive wellbeing in East Lothian by offering a wide range of free courses, groups, therapies and activities as well as one-to-one CBT and counselling.  Their base is in Musselburgh, though the support covers East Lothian with courses coming up in Dunbar, Haddington and Tranent.
As the MP for East Lothian, I fully support the work that CHANGES does in our area.  I visited them earlier this week, and it became clear that this work becomes increasingly important as one in three of us will suffer from poor mental health at some point in our lives.
You can read more, and find the fundraising details at their website.
East Lothian Courier Column
This week's column in the East Lothian Courier:
The Covid-19 crisis is proving to be the catalyst for change. Individuals, businesses and agencies are all having to adapt to new methods of working and sometimes new types of work. It can take time and sometimes be hard. But it's needed as there's no other way.
For necessity as they say's the mother of invention. But some council staff have shifted from the line of work they were doing to other roles and doing so with aplomb. That's been replicated in other sectors. For some it may be the making of them for others just something they're happy to do for the moment but no longer.
Some aspects will continue and indeed we may well query why we never did it that way before. Parliament is discovering that as MPs and their staff work from home. It's bringing about some welcome changes that frankly are long overdue.
Just a few weeks back a dear friend of mine sadly died and I wished to attend his funeral. The logistics of were such that I required to miss the meeting of the Justice Committee that I sit on. Enquiring regarding skyping or calling in I was told it just wasn't possible.
Well it is now as that committee and others are now sitting regularly using the technology others have used for some time. It's not perfect and cannot be better than a formal face to face meeting. But in these circumstances its essential. Other changes including a virtual Parliament are imminent and are long overdue. Democracy must be seen to operate as well as operate. Other businesses will query why the Monday morning meeting or even the red-eye flight to London was ever required.
For those at home at with access to a computer I can't recommend skype or zoom strongly enough. I started using it years ago when my son was studying abroad and continue with it with friends now emigrated. It's easy to download and mostly free to use. The technologically challenged like me won't find it that hard. Try it and see. It opens the world up during lockdown.
Scotland's prisons are a coronavirus hothouse. Here's what we must do
In my column in the Scotsman Newspaper I talk about the need for Scotland to implement a prisoner release scheme for inmates who will not be a danger to the public in order to avoid as far as possible a major outbreak of Coronavirus in our prisons.
The Office & My Team
I am delighted that I now have a full complement of staff working in the office.
The office is in Haddington, and while it is currently closed due to the Coronavirus pandemic, we hope to get it up and running as soon as is practical.
The address is:
37 Sidegate
Haddington
EH41 4BU
And the telephone number is 01620 829513
I'd also like to introduce my office staff:
Karen Newton, Office Manager
Having worked with Kenny since the 1980's Karen has vast experience in office and staff management.  Moving with Kenny from law into politics in 1999, she has been a constant support to Kenny throughout his career.  Her exemplary organisational skills have assisted in securing Kenny's Holyrood election victories in Edinburgh East & Musselburgh in 2007, Edinburgh Eastern in 2011 as well as playing a very active role in the Edinburgh East 2014 independence referendum.  She was instrumental in assisting Tommy Sheppard MP secure his election in 2015, going on to set up his offices, recruit and manage staff as well as assisting countless number of constituents with complex enquiries over the years, a role which requires compassion, empathy and understanding.  Karen has now recruited a team of dedicated staff to support Kenny as MP for East Lothian and is in the process of setting up a constituency office in Haddington. Married with 2 grown up children, in her spare time she volunteers with Home Start and St Columba's Hospice.
Lorraine Glass, Senior Caseworker
Lorraine is Kenny's Senior Caseworker.   She graduated from Napier University with a degree in Accounting, and a post-graduate diploma in psychotherapy from Stirling University, working for many years with some of the most vulnerable people in Scotland in homelessness and mental health posts and as a Counsellor Practitioner with Relationship Scotland. She has previously held senior posts with George Kerevan MP and Joanna Cherry QC MP and is proud and delighted to now be working with Kenny and the team.
Chantelle Hudghton, Caseworker
Chantelle is a Caseworker for Kenny. Originally from California where she graduated from the University of California, San Diego with an undergraduate degree in International Studies- History and she holds a postgraduate diploma from Glasgow University in Russian and East European Studies. Prior to working for Kenny she worked for Bob Doris MSP at the Scottish Parliament as a Parliamentary Assistant. When not working she is spending time with her husband and two children where they reside in East Lothian, so very happy to be working alongside Kenny in her own Constituency. She also regularly volunteers with the National Childbirth Trust as a Peer Support Volunteer.
Aidan Strange, Communications Officer
Aidan is a digital communications professional who has worked across Scotland and East Lothian.  After living and working in Quebec, Canada as a theatre producer and youth worker, he moved to East Lothian three days after his first visit to Hailes Castle in 2016.  Pre-lockdown he spent most of his spare time in film-making, music and live events, as well as working in local tourism.  Aidan is delighted to be supporting Kenny in his role as MP for East Lothian,  setting up and maintaining his website and social media pages, issuing press releases, whilst accompanying him on visits, meeting people from all walks of life,  and learning much more about this beautiful county whilst sharing good news stories about Kenny's hard work for the constituency in parliament, as well as engaging with what's happening around the towns, villages, coast and countryside.
Pleasure to meet in Parliament with the Governor of Punjab. Chaudry Mohammed Sarwar was formerly the MP for Glasgow Govan and Glasgow Central, so no stranger to the corridors of Westminster.
Great to catch up with the redoubtable WASPI women in Parliament. But it's not good enough that they are still having to fight this battle!